It's finally here!
Okay, if you haven't been a subscriber up until now, you probably didn't know that it was coming.  But the JoyBand has arrived in all its step and calorie counting glory!
So what does it do?  I'm glad you asked…
Records your steps, calories burned, and sleep patterns (no calibration required)
Easy to read digital watch display
Simple touch interface (only one button!)
100% dust proof and IP67 waterproof rating (you can splash it, but don't shower with it)
Uses bluetooth to sync with companion app on your phone (iPhone and Android)
Vibrates when you get a call or text
Comfortable and stylish (well, I think so anyways!)
Battery lasts over a week, and can be charged in any USB port directly (no cable needed)
Backed by our 60 day return policy
The JoyBand pedometer is available at joyband.info.  It is meant to be affordable and functional, and it happens to be stylish as well.  There are three colors available: black, pink, and grey.
Since I said its affordable, you're probably thinking it would be about $59.95, or roughly half the price of a FitBit.  But you'd be wrong — it's available for only $39.95!
Here are some screenshots from the companion app that show daily progress and history: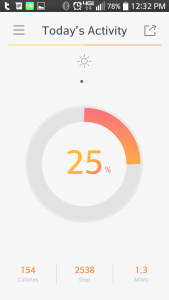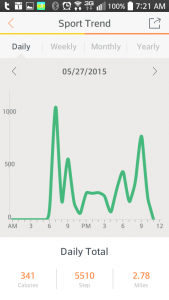 Did I mention that it also has a workout mode?  In this mode, the JoyBand will run a stopwatch while keeping track of steps, calories, and distance traveled during the workout duration.  When complete, these numbers will be added to your totals for the day.
You can also set alarms for yourself, so you can wake up on time, or leave for work on time, or whatever the case may be.
It vibrates if you wander away from your phone to remind you not to forget it.  It also vibrates if you've been sitting still for too long — we all need a reminder to get up and stretch now and then!
I really want to keep the price down, but I may not be able to keep it at $39.95 forever.  Make sure you don't miss out on this great deal!